In 1867, the United States Secretary of State, William Seward, is known for "Seward's Folly" – the purchasing of Alaska from Russia for $7,000,000 dollars. Some people may think it was great bang for the United States buck with two cents an acre, but many Americans were upset. I personally think his first folly was an amazing decision: it is a second folly I would like to share with the world, especially with the rampant revisionism going through the United States to remove monuments of leaders from the War Between the States. I personally give Seward a footnote in my history book as being an irresponsible civil servant – with a bone to pick with General Robert E. Lee.
I introduce, again, my hero and fellow native Virginian, General Robert Edward Lee. Wounds must heal, he believed. Division isn't good, he wrote. Further, without elaboration, in 1865, Robert E. Lee wrote to a former Confederate soldier concerning his signing the Oath of Allegiance, and I quote: "This war, being at an end, the Southern States having laid down their arms, and the questions at issue between them and the Northern States having been decided, I believe it to be the duty of everyone to unite in the restoration of the country and the reestablishment of peace and harmony."
On October 2, 1865, General Lee became the administrator of a small Presbyterian college that needed him, Washington College. At the same time, he wrote for a pardon to restore his United States citizenship. Once head of the Confederate forces, Robert E. Lee was a beloved leader of the South – a revered and respected man of his own enemies. A devout Christian and family man, his goal after the war was to care for his ailing wife and provide a home for his daughters too. Losing Arlington had been devastating to the great granddaughter of Martha Washington (step great granddaughter to President George Washington), but both of Lee's sons held onto their land – but Robert and his girls needed a home: Lexington, Virginia provided it. Ironically, he would live out the rest of his days as an educator to young men – encouraging reunification with the Union and being the sole originator to ending a war that had ripped our country apart: the April, 1865 surrender at Appomattox Courthouse, Virginia was to end further bloodshed – without the permission of the president of the Confederacy, Jefferson Davis.
The new American president, the successor to the slain Abraham Lincoln, issued a Proclamation of Amnesty and Pardon to men who had participated in the "rebellion against the United States." There were excepted classes – fourteen in total – and members of these classes had to make a direct and special application to the president. This law went into effect on May 29, 1865.
On June 13, 1865, General Lee sent an application to President Johnson for Parole. He sent his amnesty oath in October.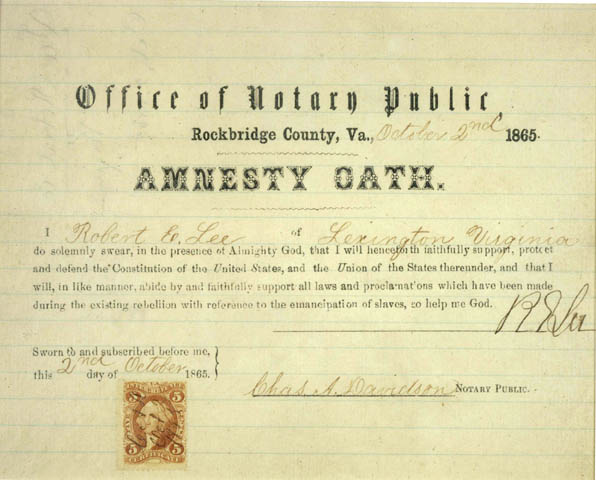 All were sent, individually, to Secretary of State Seward, of whom was to turn them over to President Johnson.  Upon arrival of the amnesty oath,  an amused Seward (of whom needed another good beating by a Southerner for doing this deed – he had survived the attempted assassination in his home the night Lincoln was killed in April, 1865) decided to give the pardon to a friend as a momento.  I call this "Seward's Second Folly" for a reason: it was deliberate choice to hurt Lee – and one that would last for over a hundred years. Seward abused his honor, his very job role, and didn't obey his President's own decree.
The pardon and return to citizenship never came – Lee waited – and perhaps wondered. He moved onto his career as an educator and college administrator. He continued to preach reunification and even toured the South and spoke to Congress – Lee's last five years were spent at his beautiful and beloved college, mentoring young students and enjoying his family.
In 1970, an archivist stumbled upon Lee's request for a pardon and citizenship restoration. Imagine what her shock must have been! I personally call her find "The Find of the Century!" In 1975, Lee's full rights of citizenship were posthumously restored by a joint congressional resolution effective June 13, 1865.
On August 5, 1975, President Gerald Ford proclaimed, "As a soldier, General Lee left his mark on military strategy.  As a man, he stood as the symbol of valor and of duty.  As an educator, he appealed to reason and learning to achieve understanding and to build a stronger nation. The course he chose after the war became a symbol to all those who had marched with him in the bitter years towards Appomattox. General Lee's character has been an example to succeeding generations, making the restoration of his citizenship an event in which every American can take pride. In approving this Joint Resolution, the Congress removed the legal obstacle to citizenship which resulted from General Lee's Civil War service. Although more than a century late, I am delighted to sign this resolution and to complete the full restoration of General Lee's citizenship."
As enacted, S.J. Resolution 23 is Public Law 94-67 (89 Stat. 380) – Robert E. Lee regained his citizenship and was given a complete pardon. He had been dead since 1870. One hundred and five years – Lee was again an American citizen and cleared of his choices in the War Between the States.
It is very important, during this wave of revisionism in the United States, in this year of 2017, that we remember that the General Robert E. Lee was pardoned – indeed, during my lifetime – and to remove any monuments to him is to slap us in the face that he is and was…
An American, in full pardon and citizenship, of the United States of America. We owe him an apology – he doesn't owe us one: for he already had given it. As I go to bed tonight, my fellow Virginian – and American – still stands, in memory in monuments in Richmond and in cities and towns all over America, waiting to see if revisionism will topple him.
I pray the craziness – indeed a cultural war over revisionism and political correctness will end where General Lee could say quite simple: